The foundation of 'Arvind Memorial Trust' and 'Arvind Institute of Marxist Studies ' under its aegis is being laid in memory of late Com. Arvind who passed away on 24th July 2008 at the age of just 44 after a brief illness of few days.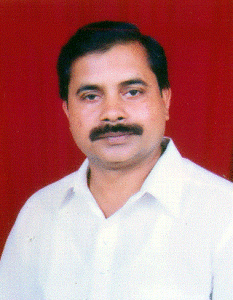 Comrade Arvind was a people's man in the true sense of the term. He started his life in the revolutionary left-wing politics at the tender age of 20 from student politics in the Banaras Hindu University (BHU), Varanasi. After that, he spent many years organising youths in the rural areas of several districts of the eastern Uttar Pradesh. He also worked on student front in Gorakhpur and Lucknow for some time. After playing an important role in organising rural labourers in Mau district of eastern UP, he worked among the industrial workers of Delhi-Noida for a long time. In the last years of his life he was playing the guiding role for the new generation of youth active in revolutionary student-youth politics while organising the workers and the safai karmcharis of Gorakhpur.
Apart from being an accomplished organiser, Com. Arvind had a good grasp in the theoretical arena as well. The entire Hindi world was acquainted with his capability as a skilled political journalist, writer and translator. He undertook intense research and study about the problems of socialism, the reasons of the capitalist restoration and the Cultural Revolution. Even on the problems and the challenges of labour movement, his study was deep and understanding exhaustive.  Not only did he regularly wrote in many newspapers and magazines like 'Naujawan', 'Ahwan','Dayitvabodh', 'Bigul' etc., but was also associated with their editorial work. He nurtured many youth comrades to become an organiser and literally taught many of them how to write. He also took upon the responsibility of meeting with the fellow travelers of the revolutionary left-wing stream and conducting debate on the question of line and ideology towards the purpose of a left unity. Whoever met him even once could never forget him.

Like a true communist he had a simple, elegant, lively and transparent personality. But he never used to compromise on his principles.  In a ruthlessly cold time of pragmatism he went on treading his unbeaten path relentlessly and lived like a true proletarian revolutionary and died as such. We will never be able to forget him.