Fifth Day – Paper Presented on European Left and Discussion Continued on Issues Highlighted in the Seminar
Allahabad, 14 March. On the fifth and last day of the Arvind Memorial Seminar, a paper by Mithilesh Kumar 'The Promise that Never Was: A Critique of the Post-1968 European "Autonomous" Left Movement' was presented and discussion continued on issues highlighted during debate on different  papers presented during the past four days.
Mithilesh, a researcher in the Western Sidney University, Australia said in his paper that we are living through a phase in world-history where there is a tectonic shift in politics both at the global and the national level. This shift can be seen at the level of workers' struggle as well as popular uprisings all over the world. But history has taught us in that when revolutionary politics and the forces that guide that politics commit errors and are not prepared, ideologically and politically, to take advantage of revolutionary, even radical, situations the price paid is heavy.
Several strands of left politics emerged in Europe in the aftermath of the Second World War, especially after the death of Stalin and the 20th Congress of the Communist Party of Soviet Union where Khrushchev spread his canard. Most of these strands were the subject of investigation and criticism in the papers presented in this seminar. This paper was focused on the Italian Operaist movement and its offshoots whose influence is spreading widely today. People like Antonio Negri, Mario Tronti, Bologna and Raniero Panzieri have gained a cult-like status in significant sections of workers movement.Even many of those who criticise them acknowledge their "originality".The paper describedthe background in which operaism developedand showed how their "originality"is a result of their deviation from the methods and philosophy of Marxism.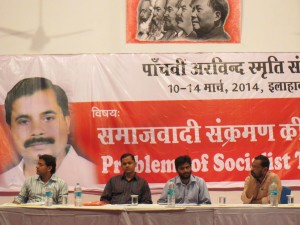 Mithilesh said that a dangerous tendency of establish a hegemony over radical and revolutionary struggles by either trying to co-opt them or institutionalize them by a kind of "transnational activism" is being witnessed today.One of the methods by which this is being done is through the trade unions of the developed countries. In several third world countries including India some new players are emerging in the workers movement which were hitherto absent.These actors range from NGOs masquerading as unions, 'activists' of major unions from the developed countries, labour activists of all shades of left.It is interesting that these actors are collaborating with some "revolutionary" organizations. Even the rhetoric used is similar– 'Autonomy' of the workers movement, 'community' of workers etc., some even try to theorize the recent struggles as a kind of 'occupy' movement. It should be asked as to what is there in the theory and practice of revolutionary politics of organizations and parties which makes them align with such actors.
The discussion on this paper was joined by Deepti Gopinath from Mumbai, Amarnath Dwivedi from Azamgarh, editor of 'Aahwan' Abhinav Sinha, Akshay from JNU, editor of 'Pratibadh' Sukhwinder and others. Rajendra Paudel from Pokhra, Nepal while agreeing with the paper raised the question of migrant workers from third world countries in the developed countries. The large scale migration has given rise to several problems associated with organising them and the labour movement must address them. Abhinav and Satyam also discussed this issue in their statements. Mithilesh while answering questions on his paperdiscussed the problems in organising migrant workers based on his experiences working with an Australian union.
In the concluding session, discussion continued on important question highlighted during the seminar. Arun from Bihar presented some questions to clarify understanding about the capitalist restoration in USSR and China and Maoism. On some points raised by PL Shakun from Jaipur, Abhinav Sinha said that SUCI is called "Trotskyist in disguise" because like Trotsky they also follow a deductive method in determining the stage of revolution in India. Sukhwinder presented a critique of the passive-radical politics of SUCI. Ramashish Gupta from Bhojpur and Taj Mohammad from Ludhiana also participated in the discussions.
The session concluded with the statements of members of the last day's presidium; Sunny Singh from Delhi University, poet and journalist from Nepal Sangeet Shrota and co-editor of 'Disha Sandhan' journal Satyam. Sunny said that we can face the challenges before us today only by working with a strong grip on the science of revolution. Only emotions will not take us any where.
Sangeet Shrota said that we have learnt a lot during the five days of discussions on socialist transition which is very significant for people associated with the revolution in Nepal going through a crisis. We will continue these debates after returning there. We are also thinking about organising a seminar on problems of socialist transition in Nepal. Participation in future seminars by Arvind Memorial Trust from Nepal will continue as it is a good experience for us.
Satyam said that thinking on problems of socialist transition is not an academic question today. It involves very important questions of ideology which are directly impacting revolutionary movements in India and the world over. We hope that like the previous Arvind Memorial Seminars, the debates ensuing from this seminar will continue on different platforms. We are thinking about holding the next Arvind Memorial Seminar on the nature of Indian society, production relations and the stage of revolution. All the papers presented in this seminar will be available on the website of Arvind Memorial Trust. We will also start work as soon as possible to publish the collection of papers in Hindi and English. It is also planned to get the papers of Arvind Memorial Seminars translated in Punjabi, Marathi and Nepali.
The seminar came to an end with slogans of 'Red Salute to Com. Arvind' and 'Com. Arvind lives on in our resolute will to fulfil his dreams!" and Tapish Maindola's impressive presentation of a song by Shashi Prakash "Naye sankalp lein phir se, nayenaaregadhein phir se, uthosangramiyojagonaishuruaatkarnekasamay phir aarahahai…" (We have to make new resolutions, articulate new slogans, arise o fighters, wake up; the time to make a new beginning is approaching…)